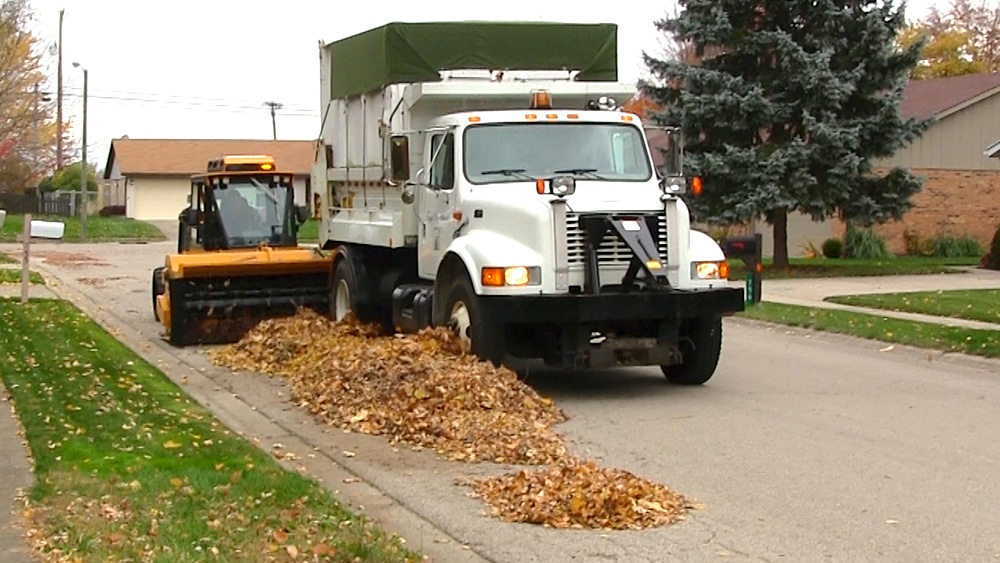 A municipal leaf collection program is a great service to offer residents but it can also be an expensive venture. The Trackless Leaf Loader is an advanced and efficient leaf loading attachment whereby leaves are picked up curbside, mulched and blown into a truck ready to be taken offsite.
Faster Pick Up
The Leaf Loader is capable of loading four trucks per hour or 100,000 pounds of leaves per day. Most customers claim to be three to four weeks ahead of schedule at the end of their leaf pickup season.
Heavier Loads & Fewer Trips
Loose leaves can be reduced in volume by up to one tenth simply by mulching. This means that far more material can fit into the truck resulting in fewer trips to the collection centre. Even though leaves represent up to 20% of municipal solid wastes, states such as New Jersey and many communities have banned leaf disposal through land fills or incineration. As others follow, mulching and/or composting will soon become mandatory as the first step in leaf disposal or recycling.
Reduce Labour, Increase Comfort
The enclosed heated cab of the Trackless MT provides the operator a safe and comfortable working environment out of any inclement weather conditions. Rain, snow or cold weather won't affect your operator or the Leaf Loader's ability to pick up leaves even if they are stuck or frozen to the pavement.
Specifications
| | |
| --- | --- |
| Throat Opening | 72″ (1828mm) x 35″ (889mm) |
| Mulching Rotor | Full width with 24 knives |
| Beater Bar Feed Roller | 18 pairs of spring base type tines |
| Intermediate Feed Roller | 32 tines, eccentric rotation |
| Cross Auger | 14 inch diameter |
| Blower Fan | 32″ (813mm) x 7″ (178mm) with 6 replaceable paddles and knives |
| Drive Protection | Torque limiting clutch on PTO shaft, over running clutch in gearbox |
| Drive | PTO driven rotor and blower fan, hydraulic driven beater bar feed roller, intermediate feed roller, and cross auger |
Weights & Dimensions
Model
Length
Width
Height
Weight
Leaf Loader
78″
1981mm
112″
2845mm
111″
2819mm
2,675lbs
1,213kg
*Measurements are approximate.*
*For detailed tender specifications, contact Trackless Vehicles sales department.*