The Trackless rear-mounted water tank is one of our most popular attachments. This attachment is required for several different operations that can be performed in conjunction with other Trackless attachments. Uses can include: spraying water for dust control when sweeping, spraying chemicals with the 14′ rear-mounted boom sprayer, watering hanging flower baskets, spraying brine, or spraying calcium chloride.
The water tank is 80-gallons (300 litres), and is moulded from semi-translucent polypropylene. The attachment includes a 12V electric pump, adjustable relief valve, hosing and a harness with a trailer plug to connect to the rear of the MT7 tractor. A large lid can accommodate filling from a fire hose if hydrants are available and their use permitted.
Every MT7 tractor comes equipped with the switch, wiring and hosing and trailer plug ready for the water tank to be mounted. When a water tank is mounted, the operator can select run or autorun to turn the pump to the on position. If autorun is selected, the pump will automatically shut off unless the tractor is moving forward. If run is selected, the pump will run full time.
Brine Sprayer
The Trackless anti-icing/de-icing spray system is designed specifically for liquid salt brine applications. Anti-icing prevents the bond of snow and ice from freezing to the sidewalk. De-icing is the first step in the process of removing snow or ice from the sidewalk. The Trackless brine system is excellent to use in downtown core areas so that material is not tracked into stores, government buildings and office buildings. Brine spray systems used for anti-icing or de-icing reduce material and labour costs and make sidewalks a lot safer.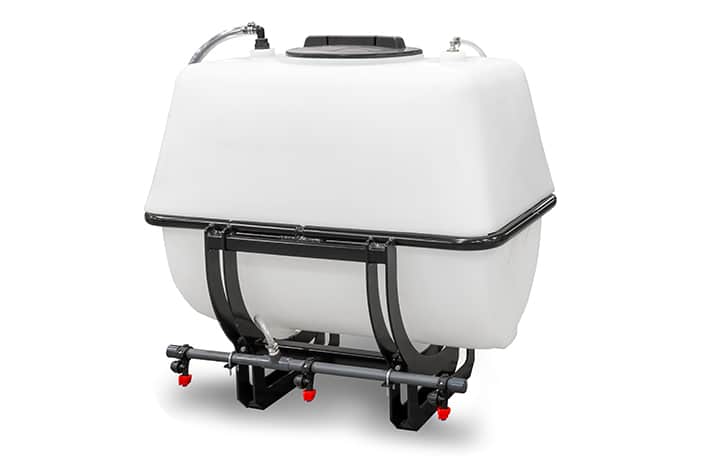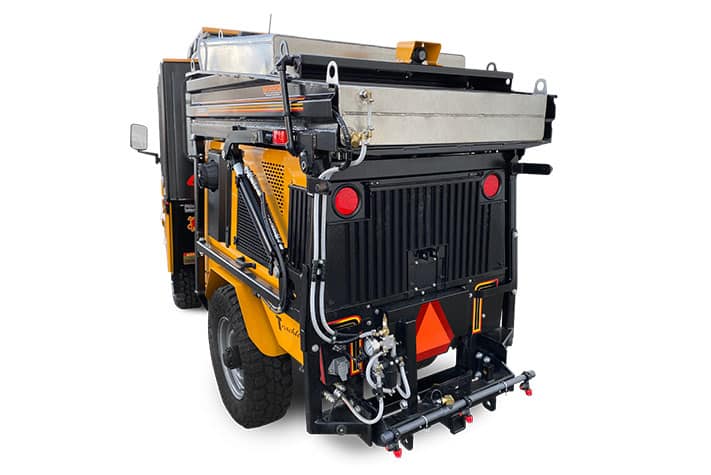 Specifications
Tank Capacity
80 US Gallons
300 Litres
Tank Material
Chemical resistant polyethylene
Pump
12V chemical resistant electric diaphragm
Max Pressure
50 psi
Center Skid Shoe
1
Weights & Dimensions
| | | | | |
| --- | --- | --- | --- | --- |
| Model | Length | Width | Height | Weight |
| Water Tank | 38″ 965mm | 48″ 1219mm | 47″ 1194mm | 270lbs 122kg |
*Measurements are approximate.*
*For detailed tender specifications, contact Trackless Vehicles sales department.*
14′ Rear-Mount Spray Boom
When working large areas of green space, you can mow with our 14-foot Rotary Mower and spray the same 14-feet at the same time.
Spray Bar Kit for Sweepers
Mounted to the top hood of the Power Angle Sweeper, these spray bar kits are available in standard or custom widths to match the size of the sweeper.
Spray Nozzle Kit for Cold Planers
Our asphalt milling Cold Planer attachment can create a cloud of dust. Adding a spray nozzle will keep it under control and help lubricate the millings.
Spray Bar Kit for Pickup Sweeper
Attaching just above the front caster wheel, this spray bar will help your Pickup Sweeper pick up more debris by wetting it down before it enters the sweeper body.