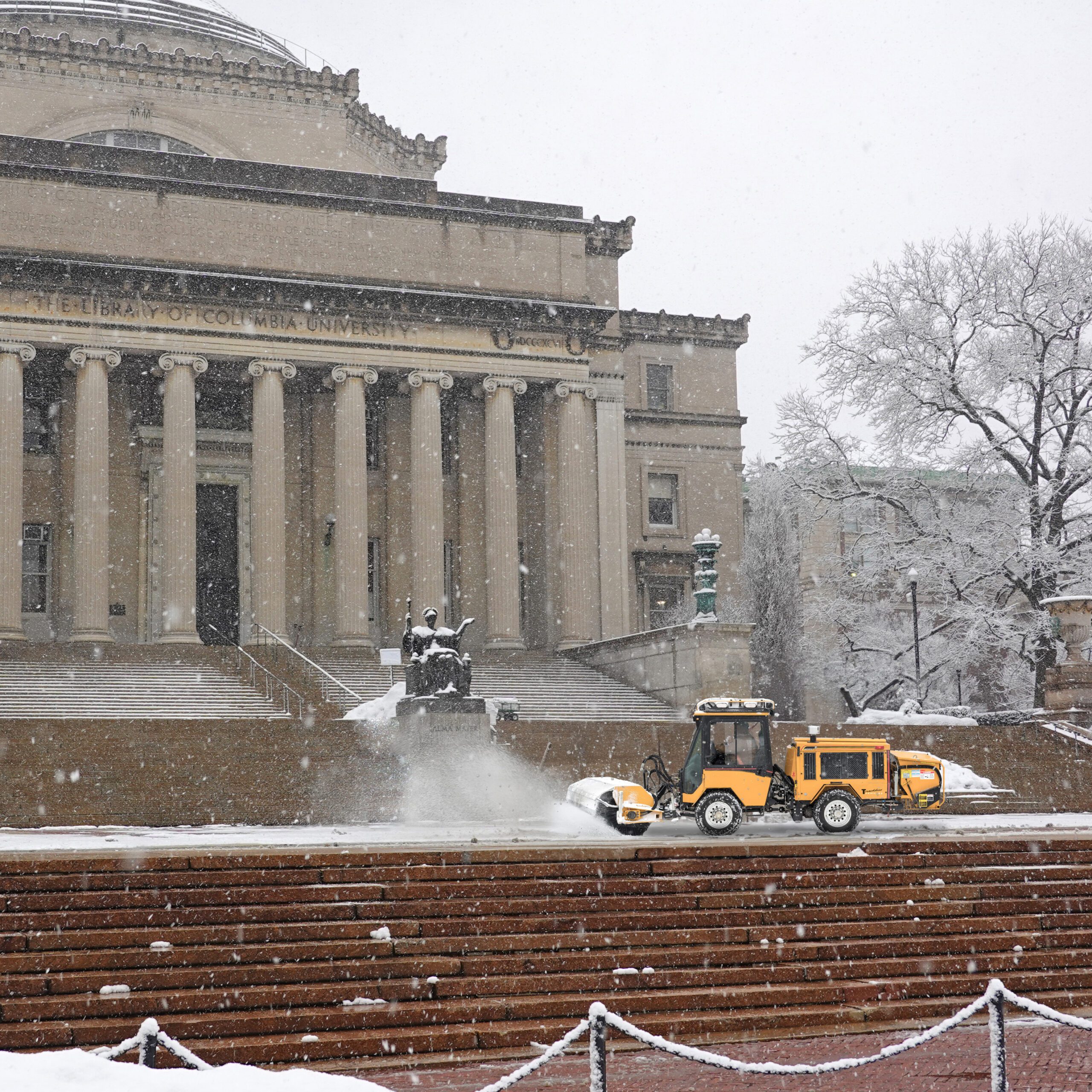 The

Ultimate

Tool for College and University Campus Maintenance
Trackless Vehicles brings you the MT7, a versatile municipal tractor unit that seamlessly combines power and utility, making it an exceptional choice for college and university campuses throughout North America. Whether your needs involve efficient winter sidewalk cleaning or maintaining sports fields and green areas on campus, the MT7 stands as the ultimate investment.
30+ attachments, providing 365-day versatility
Full climate controls keep the operator comfortable year-round
Maintain Your Campus' Green Spaces
When summer rolls around, you want to ensure your campus is equipped with the right solutions for your lawn care and mowing needs. Not only does maintaining your campus' green spaces increase aesthetic appeal, but regular lawn maintenance helps keep the campus grounds safe and accessible, reducing the risk of a student or staff member tripping and falling.
Well-maintained lawns enhance the overall appearance of the campus, creating an inviting and pleasant environment for students, staff, and visitors. Add one of our mowing attachments to your Trackless Vehicles fleet and reap the benefits of 365-day versatility; from Rotary Finishing Mowers to Boom Flail Mowers to Front Flail Mowers, we have the tools you need to maintain the healthy green spaces on your campus.
Built tough to withstand everyday use, the Rotary Finishing Mower is ideal for lawn maintenance on campus, including across common areas, event zones and sports fields.
Easily mow up to 10 acres per hour.
3 deck sizes available: 6′, 10′, 14′.
Joystick control allows for simultaneous mower wing movement.
Easily maintain aesthetics around campus without sacrificing staff safety! The Boom Flail Mower is the solution to those difficult-to-reach areas: ditches, steep inclines, waters-edge areas and more.
Front-mounted for optimal visibility and maneuverability.
Joystick controls for ease of operation.
Horizontal reach of 13 ½' from the outside tire.
The Front Flail Mower was designed to cut heavy grass, weeds, scrub and more where regular rotary mowers just wouldn't cut it. This attachment was built to withstand rugged terrains.
Enclosed mower housing and rubber safety skirts for added safety.
Front-mounted attachment provides even cut without turf damage.
33 flail blades that can be easily resharpened.
Debris Removal Made Simple
University campuses should prioritize regular sweeping of their sidewalks, walking paths and bike lanes. Clean sidewalks and bike lanes contribute to the overall aesthetics of the campus, creating a more inviting and pleasant environment for students, staff, and visitors. As well, maintaining clean and debris-free pathways promotes safety for pedestrians and cyclists; leaves, twigs, and other debris can pose tripping hazards and impede the flow of bike traffic. Trackless offers the solution: our sweeper attachments are versatile and can be put to work in all four seasons.
The Power Angle Sweeper is the perfect multi-purpose tool for campus maintenance. In addition to sweeping snow, sand, gravel or other debris from sidewalks, bike lanes and walking paths, the Sweeper can be used to de-thatch large lawns and sports fields.
Three bristle options to accommodate various applications: all poly, ½ poly and ½ wire, and all wire.
Six broom widths available: 3′, 4′, 5′, 6′, 7′ & 8′.
The Trackless Pickup Sweeper is the ideal attachment for bike lane maintenance and sidewalk clean-up on college and university campuses. The Sweeper is driven to collect debris in its path, and is then emptied by a hydraulically-controlled bottom gate; this process ensures that dirt, gravel and other debris is completely removed from your campus' sidewalks and walking paths.
48″ sweeping width.
Optional Spray Bar Kit is available for added dust suppression.
Prioritize Safety on Campus This Winter
Winter on campus demands a focus on safety and accessibility. Rapid clearance of walkways and parking lots ensures safety and compliance with accessibility standards. Beyond safety, it sustains uninterrupted campus activities, elevating student satisfaction and your institution's reputation!
Snow and ice removal is crucial for functionality, achieved efficiently with the Trackless MT7. This versatile machine can be equipped with any of our Snow Plow, Snowblower, Ice-Breaker, Brine Sprayer, or Sidewalk Spreader attachments.
The Double Trip Plow was designed for maintaining sidewalks and walkways across your campus that have elevation differences that could result in plow tripping. Eliminate the risk of damaged equipment with this durable plow!
Mouldboard trips 35°, cutting edge trips 40°.
Blade is 60″ wide and 32″ high.
Adjustable trip springs allow you to modify the trip-edge tension.
Winter throwing its worst at you? Throw it right back with our Ribbon Snowblower. Designed specifically for sidewalk use, this high-output blower makes quick work of snow removal.
Sidewalk chute is standard; truck-loading and telescopic chutes are optional.
Available in three widths: 51″, 60″ and 75″.
Attachment is hydraulically controlled by the joystick for ease of operation.
Winter safety is a priority for municipalities and contractors across North America. The Ice-Breaker addresses a major winter safety concern: slips and falls. The attachment's rolling cutters pulverize ice that forms on sidewalk surfaces and poses a risk to pedestrians.
A double-pulverizing roller system provides two passes in one.
Spring-loaded independent suspension allows cutters to dip in and out of surface contours.
Rear Mount Sidewalk Spreader
Our Rear-Mount Sidewalk Spreader was specifically engineered for sidewalk applications. The attachment dispenses a 41″ spread width, which limits both material waste and turf damage that is often associated with broadcast spreaders.
1/2 cubic yard capacity.

Diamond application pattern limits turf damage.
Several options are available to upgrade the Spreader, including the Dump Body attachment, used to refill the Spreader on the go.